Hey hey hey! Happy Monday! I hope you had a super weekend. I got a lot of work done but also found time to read a little and clear a few shows off my DVR. And enjoy my non-leaky new roof when it rained some. 🙂
We had a really windy weekend too, under wind advisories both days. At least it wasn't super cold, that would have made it really miserable!
New week, new stuff, so let's dig right in…
---
1. Julie at Publish Low Content Books has a new community bundle out today! The Productivity & Profits Publishing Bundle includes nearly 30 participants with planners, coloring pages, graphics, and other templates as well as trainings, worth $1200 — all for just $27!
Even if you only want/need a few of the included products, you'd pay at least $27 for even just one of them normally, so getting the bundle is a great deal.
My entry in the bundle is a new set of mixed frames in the Shabby Chic Frames Bundle: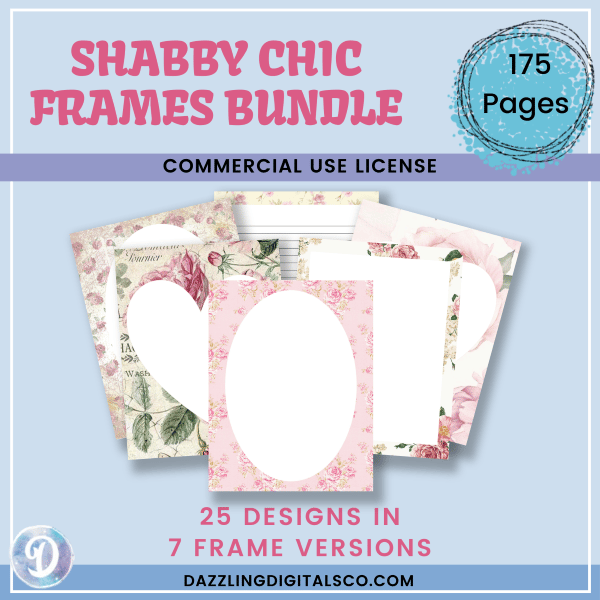 You can use them for all sorts of projects, including planner and journal pages, puzzles, and more.
And, if you buy through my link, you'll get my bonus of 100 more frames — 50 mandala frames with blank white space, and the same 50 mandala frames with lines. 🙂 The link to get them should be in your WarriorPlus account after purchase, but let me know if you have any problems with that.
Check out the bundle here to see all the great products included for just $27, before it goes away on Sunday, February 7th.
≈≈≈≈≈≈≈≈≈≈
2. Alice and Yusef at eKit Hub have another great kit consisting of 131 Pages of Love and Relationships Printables. It comes with poster graphics which are good for social media, print-on-demand, and more; a couple's journal complete with writing prompts; card questions for a card deck; date night, goals and other relationship planner pages; and much more.

There's also a great article on their site, 9 Ways to Use Planner Pages to Grow Your Business, which will show you exactly what you can do with the pages from this kit to make the best use of them.

And, they now have 3 free poster graphics available that go along with this theme, if you want to see what part of the kit looks like. They definitely give a lot of value with their kits and information!

Check out the article here, the free poster graphics here, or the terrific relationships kit here and get it for just $14.95 through tomorrow, Tuesday, February 2nd.

≈≈≈≈≈≈≈≈≈≈
3. Becky at PLR Beach has a beautiful Baby Blooms Pregnancy Planner available now, that has a delicate watercolor blooms design. It comes with 4 covers, backs, and spines included. There are 45 unique pages in all, and it's got both color and black and white in 8.5 x 11 and 8 x 10 sizes.
This will be great for anyone wanting help with planning all the many things necessary during their pregnancy, and this kind of planner is a hot seller on Etsy and Amazon KDP.
You can find out more here, and get $10 off with coupon code BABY through Wednesday, February 3rd.
≈≈≈≈≈≈≈≈≈
4. Connie Ragen Green has a new FREE challenge, the Action Habits Challenge, that looks really amazing (I signed up myself). She'll be sharing her best tips, secrets, and resources for creating and executing simple, actionable habits to grow your business and change your life.

Connie emailed over the weekend and mentioned she had some technical gremlins with this, so if you signed up and didn't get anything, try signing up again!

Won't you join me in Connie's Action Habits Challenge?

≈≈≈≈≈≈≈≈≈
5. Eileen at Everything In Its Place also has a new FREE challenge, which starts today (sorry for the late notice!). Her Decluttering Challenge runs all this week with daily Zoom calls and decluttering homework (but there's no failing grade, lol). If you miss a live call, you can catch the replay in the Facebook group.

Eileen has serious cred in this area, as she's the author of Organizing for Dummies from the real official Dummies series, and she's appeared as an expert on Oprah, The Today Show, and in many magazines and newspapers. So this is a great opportunity to learn from someone who knows what she's talking about!

You can sign up for the Decluttering Challenge here and get ready to clear out even 1 thing a day that you no longer need. 🙂

---
Alrighty, that's all I have for you today. Lots of things to get done today in and amongst the morning and afternoon Zoom trainings, so let's see how the day goes. 🙂
Have a spectacular day!
Thanks again for being here, I appreciate you. And remember – life is short, so do something fun!