Oh hey there! Happy Friday! I hope you've had a terrific week. Can you believe it's the end of April already?
April showers (which we've had a lot of the last couple of weeks here in north Texas!) do bring May flowers…sometimes in more ways than one. 😉 But wait, I'm getting ahead of myself.
So I've been verrrrrrrrrrrrrrry quiet this month. Like, I haven't sent an email since the 1st and here we are on the 30th. That's pretty darn quiet.
I was originally busy trying to get products up on my website. If you've been around a while, you know that I've mostly been just telling you about awesome products my friends have for sale, or else things I've had available in bundles/giveaways. But didn't have much of anything to sell on my own site.
My plan for the 2nd quarter was to finally change that. But…I've had this low-level niggle for some time that kept me from doing so. At first I thought it was just plain ol' procrastination. We've all been there, amiright?
Or maybe fear…of failure, of success, of being overlooked? They're all real things too. I didn't think that was really it for now though.
I finally realized I'd become discontented with my business name. Dazzling Digitals sounded good when I first chose it in early 2020, but it was starting to sound…I don't know…pretentious. Gaudy. Glitzy. Something that would have lots of gold and glitter and bling. Not "me" and not what I intended.
I think it was being perceived as the "bright, blinding, glaring, showy" meaning rather than a more scaled back "impressive, remarkable, excellent" type of meaning.
So I subconsciously wasn't ready to add products to the store and do a big launch, because I didn't like that interpretation.
And once I realized that was the issue, I realized that I needed to rebrand with a new name and new website before I wasted time putting up a bunch of stuff that would just need to be edited with new graphics and so on.
I now have my new name and domain and logo, and a few friends that I'm in a very small mastermind with love the new brand. ☺️ I believe I'm on the right track now. Yay for clarity!
I'm working on the new website, changing the colors and graphics from the old site (I liked my general design/theme there so that won't change much probably). Then I'll start getting actual you-can-buy-them products up there that will help you do what you want/need to do.
April ended up being somewhat of an introspective month, but it's been worth it. And I think it's important to share this with you, to be real about the struggle and thought-process I went through, so you can see that it's okay to stop and think about what you're doing, maybe even take a step or two backwards or sideways before you start forwards again.
Nothing is written in stone. You can change what you're doing.
Oh, and the May flowers that are coming from the April showers? That's part of the new name. 😁 Coming soon to the Interwebs near you: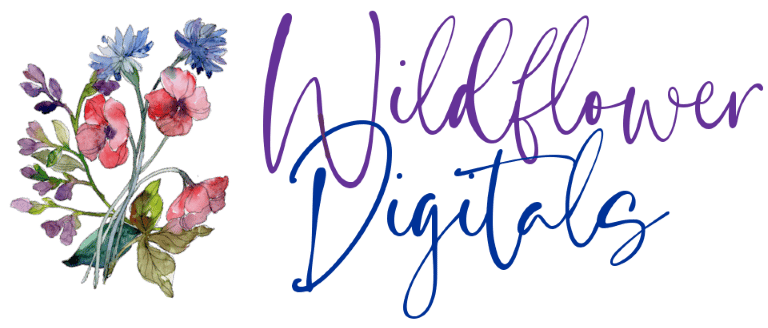 Let me know what you think!
---
Alrighty, I know this was a bit more gabby and longer than usual, so that's all I have for you today. Thank you if you read all the way to the end. 🥰 I'm off to get more work done on the website this morning and then I have a Zoom call later.
Have a spectacular day and weekend! And thanks again for being here, I appreciate you. Remember – life is short, so do something fun!