Hey hey hey! Happy Thursday. I'm not really sure how we're already about halfway through the month but here we are nonetheless. Anybody know what happened to the first couple of weeks??
In addition to getting back in the swing of work, I've been dealing with house repair stuff. It rained pretty hard and steady here the last couple of days of 2020, and a leaky roof resulted in a nasty 5 foot long drip in my kitchen ceiling. Oy. I was able to get a roofer out to patch the roof on New Year's Day, and last week dealt with the fun of an insurance adjuster as the roofer said that the whole roof really needed replacing – after all, it's only 17 years old, other than a patched spot here and there. Luckily the insurance adjuster agreed, based solely off of photos and the roofer's report as they're trying not to do in-person visits due to the pandemic.
The kicker, of course there's a kicker, is that due to age, 2/3 of the value of the claim is being deducted due to depreciation. So I'm still going to be out of pocket quite a bit to fix the roof. We won't even get into the interior repair issues, that's a whole other soap opera. ::eye roll:: Now I'm waiting on the roofer to get me the estimate of just how bad it's going to be. Wheeeee!
Good thing though is that when it snowed here on Sunday — SNOW! In NORTH TEXAS!! So rare! — and then melted the next morning, at least nothing leaked through, so the New Year's Day emergency patch worked!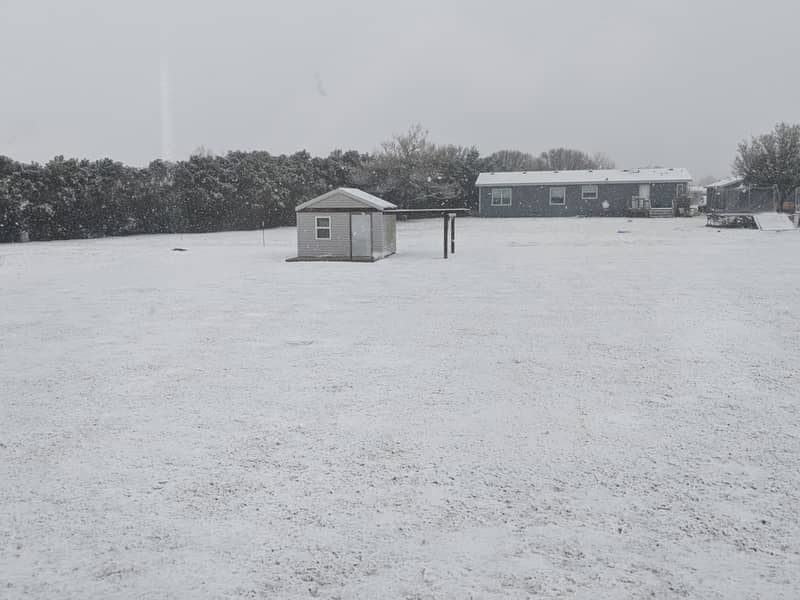 View of my backyard and outbuilding and the neighbor's house
So that's one of the sagas I've been going through lately. How's life in your neck o' the woods?
There are lots of good deals going on in the low content world, and more coming up soon. Here's a few I wanted to tell you about today…
---
1. Justin and the crew at Tools for Motivation have a new freebie on Overcoming Hard Times, which includes 3 articles and audio files and a tips report. While you're there, check out the expanded content on the topic of persistence and finding resolve, When It Matters. That package includes ebooks, covers, articles, and a lot more content to help you with this topic for your audience.
The freebie and expanded offers are both good through the end of the day tomorrow, so pick them up now at a low price while you still can.
≈≈≈≈≈≈≈≈≈≈

2. Ruthie at Ritchie Media has updated and expanded her original Creative Repurposing course and re-released it for 2021. This course is intended to help you start actually using all those designs you've purchased that are just lingering on your hard drive, gathering digital dust, by repurposing them into designs and products. It also shows you how to make your own,find good places for designs, and a whole lot more.
She'll be having live classes in January as part of the re-release to supplement the videos and training that already exists, so it's a great time to get this. Ruthie's a really good teacher and you'll learn a lot from her with this course. The first one was this past Monday and was terrific, and the next one is tomorrow.

You can check it out here and save $70 during the re-launch period (no coupon needed) that runs through the last live class on Friday, Feb 5 (which just happens to be my birthday…just sayin'… 😉 ).
≈≈≈≈≈≈≈≈≈≈

3. Becky at PLR Beach is back with a gorgeous deluxe Vintage Rose Wedding Planner that plans the perfect wedding! The trendy vintage watercolor rose design is perfect for any bride-to-be, and the coming months are peak wedding planning season, pandemic or no.
The planner comes with multiple cover choices, two different sizes, and also in black and white as well as color.
Check it out here and use code VINTAGE to save $10 off through Friday, January 22nd.
---
If you're looking for some recurring template/training help, here are a few fabulous low-cost memberships to tell/remind you about:

1. Carmen at Simply Couture has the Monthly Insider Club, which each month gives you training on Etsy, a brand spanking new PLR product, an ongoing discount on other products, other surprise bonuses, and starting this month, more video training on how to customize templates – it's an absolute steal at $37 per month because just a few sales of the PLR product alone will recoup that. She's going to start limiting registrations to the 1st-15th of each month, so get in now for this month before registration closes on Friday!
≈≈≈≈≈≈≈≈≈≈

2. Sue of Createful Journals has her Pretty Printables Club, which gives you vintage digital papers/backgrounds and buttons or brads that are perfect for scrapbooking. They come in Powerpoint format, so can easily be incorporated into journals, planners and more. You can get these for a ridiculously tiny monthly price of $10.

≈≈≈≈≈≈≈≈≈≈

3. D'vorah of Share Your Brilliance offers her Content Creation Club, in which you get not only monthly commercial use and personal use products — such as guides, workbooks, planners, etc. — but also a monthly live training call with D'vorah, and other surprise bonuses. And talk about a tiny price, right now you can still lock in a low $27 monthly rate for all this goodness.

---
Alrighty, that's all I have for you today. I've also been nursing a sick cat who, coincidentally, is as old as my roof. Poor dear is getting old and creaky, just like her Mama. 😉
Oh, and I promised a freebie, didn't I? 🙂 Go here and get 10 square mandala designs that you can use in whatever you want. Enjoy!
Have a spectacular day!
Thanks again for being here, and remember – life is short, so do something fun!