Hey hey hey! Happy Friday! The weekend is upon us, the last day of January is almost here, and sneak peek for the future: I have a fun gift for you next Friday. 😉 But you'll have to wait until then to find out more! <insert evil laugh>
For today, the sun is shining, the birds are singing (somewhere), and it's a beautiful day to have a beautiful day. How's things where you are? I can't help it, I just naturally have a positive and optimistic outlook most of the time, even when bad stuff is happening. Doesn't mean I overlook it or don't take it seriously, and I have my downer moments, but generally you'll find me with a glass-three-quarters-full frame of mind. Makes life a little more bearable, I think.
Speaking of making life more bearable, cat photos always help. 🙂 Here's my boy Riley, to say hello!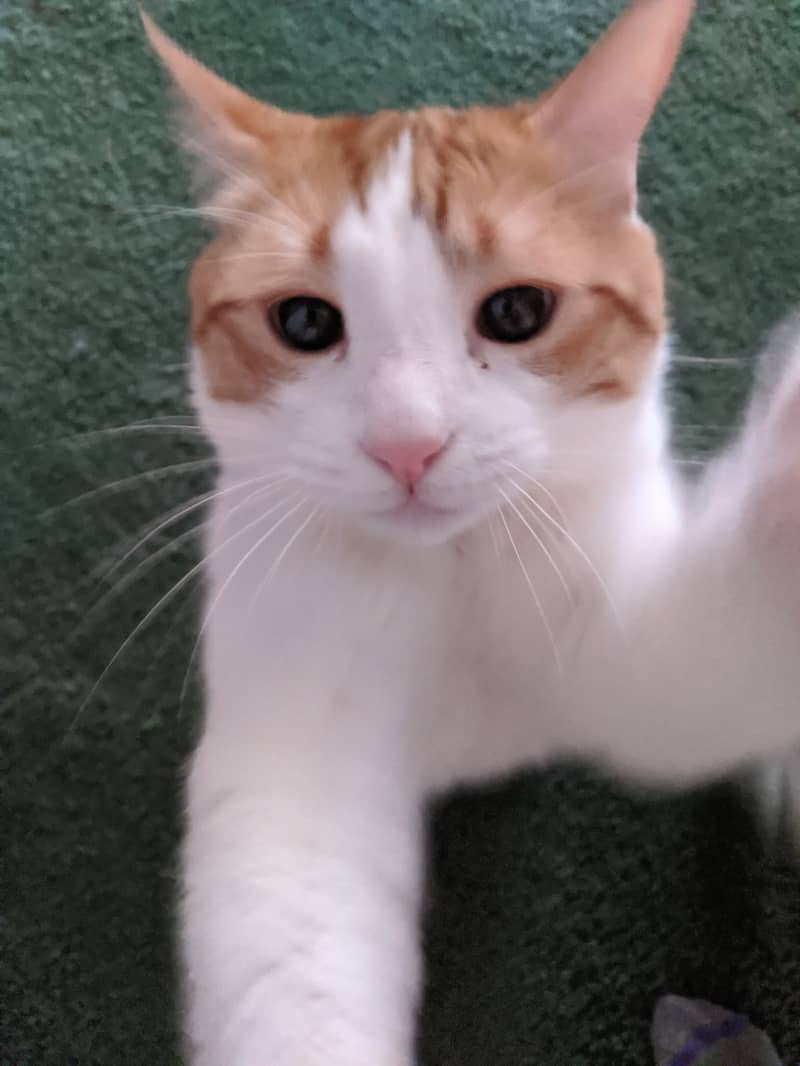 Hai there!
This is from a couple of weeks ago when he was jumping up on me for a good morning skritch, on his Gotcha Day. If you're not conversant with such a thing, Gotcha Day is the anniversary of a pet's adoption day. I got Riley 5 years ago when he crawled out from under my house when I was on the front porch one day, and came right up to me without any fear at all. He was only a few months old, quite brave for such a youngster! I'm pretty sure he adopted me rather than the reverse, lol.
Anyway, with another Friday, there are lots more awesome products available for you to consider that might be helpful for your business, either personally or as products for your own clients, so let's dig in to some of them…
---
1. Ruthie at Richie Media has updated and expanded her original Creative Repurposing course and re-released it for 2021. This course is intended to help you start actually using all those designs you've purchased that are just lingering on your hard drive, gathering digital dust, by repurposing them into designs and products. It also shows you how to make your own, find good places for designs, and a whole lot more.
She's been having live classes this month as part of the re-release to supplement the videos and training that already exists, so it's a great time to get this. There's another class later today, and then the last one is next Friday, so there's still time to join some live.
You can check it out here and save $70 during the re-launch period (no coupon needed) that runs through the last live class next Friday, Feb 5.
≈≈≈≈≈≈≈≈≈≈
2. Rayven at Color Monthly PLR has opened up her All-Access Pass membership and it's a doozy! For just $47/month, you get one new package delivered each and every Tuesday!
1st Tuesday of the Month – 35-page Monthly Theme Package – $46.50 value
2nd Tuesday of the Month – New Coloring Pages Package – $30-45+ value
3rd Tuesday of the Month – Kindness Postcards Monthly – $12 value
4th Tuesday of the Month – New Coloring Planner Package – in both colorable black and white AND full-color – $45-60+ value
That's a lot of product value, and each of those products can be split up into many many smaller products and used in soooooo many ways, giving you endless opportunities.

OR, for $99/month, you can get all of that AND her weekly group Creativity Corner Mastermind calls, which can help you learn to use not only those new products but a whole bunch more.

Learn more here, and go lock in that monthly price on the Pass before it rises on Friday, February 5th.

≈≈≈≈≈≈≈≈≈≈

3. Alice and Yusef at eKit Hub have another great kit consisting of 131 Pages of Love and Relationships Printables. It comes with poster graphics which are good for social media, print-on-demand, and more; a couple's journal complete with writing prompts; card questions for a card deck; date night, goals and other relationship planner pages; and much more.

There's also a great article on their site, 9 Ways to Use Planner Pages to Grow Your Business, which will show you exactly what you can do with the pages from this kit to make the best use of them.

Check out the article here or the terrific relationships kit here and get it for just $14.95 through Tuesday, February 2nd.

≈≈≈≈≈≈≈≈≈≈
4. Becky at PLR Beach has a beautiful Baby Blooms Pregnancy Planner available now, that has a delicate watercolor blooms design. It comes with 4 covers, backs, and spines included. There are 45 unique pages in all, and it's got both color and black and white in 8.5 x 11 and 8 x 10 sizes.
This will be great for anyone wanting help with planning all the many things necessary during their pregnancy, and this kind of planner is a hot seller on Etsy and Amazon KDP.
You can find out more here, and get $10 off with coupon code BABY through Wednesday, February 3rd.
≈≈≈≈≈≈≈≈≈≈
5. Jenn at Planning Addicts has a fun new Bellydance Coloring Package out, which brought back some fond memories. When I was in my early- to mid-teens, my mom took belly dance classes and did performances with her class for a few years, and really enjoyed it. I loved to watch her dance, and even borrowed her costume for Halloween once or twice. Good times!
Anyway, Jenn's package includes coloring pages and images with dancers, camels, and tents, and multiple versions of each so you can use them in different ways.
Go see them here, and get $10 off with coupon code letsdance through Sunday, January 31.

≈≈≈≈≈≈≈≈≈≈

6. Connie Ragen Green has a new FREE challenge, the Action Habits Challenge, that looks really amazing (I just signed up myself). She'll be sharing her best tips, secrets, and resources for creating and executing simple, actionable habits to grow your business and change your life.

Connie has a ton of experience in training people and everything I've gotten from her is top-notch, so I jumped on this – and since it's free, there's nothing to lose. 🙂 You'll get a new lesson every 7-10 days for the Challenge, so you won't be getting a ton of extra emails to clutter your inbox, and can take time to read, consider, and implement the information she shares.

Won't you join me in Connie's Action Habits Challenge?

---
Alrighty, that's all I have for you today. I'm going to get some more work done before Ruthie's Creative Repurposing call today, and then I may just take the rest of the afternoon off after that and put the Funday in Friday Funday. 🙂
Have a spectacular day!
Thanks again for being here, I appreciate you. And remember – life is short, so do something fun!