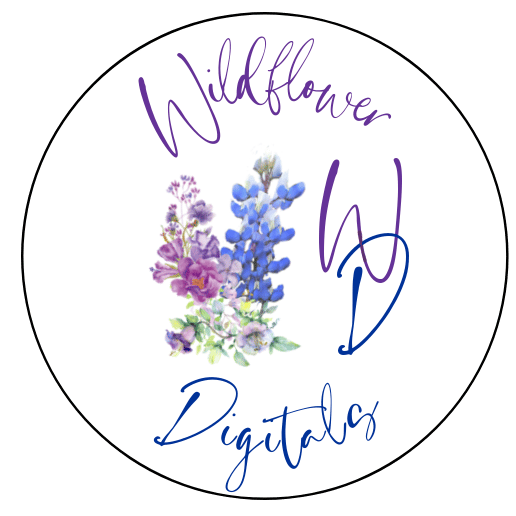 Oh hi! Happy Tuesday! I hope your week is going well so far. We've had so much rain here lately, it's been beyond normal. Over the weekend, I thought sure I was going to see an ark go floating by, my yard was so flooded. 😆
We'll be begging for it in another month or two once the summer heat sets in though, so it's hard to complain too much.
And those May wildflowers are blooming now because….Wildflower Digitals is officially live!! I'm so excited to share it with you. 😊 I've been working hard on getting the site all dolled up and trimming the weeds and oh yeah, getting a few products on the shelves that might just interest you too.
Dazzling Digitals was a lovely name, but now you'll see the emails coming from the new digs instead, so whitelist it if you need to and redirect those bookmarks to the new place – Wildflower Digitals​
I've even got a lovely new freebie for you, come check it out. It's a 31-day Daily Planner, in a nice southwest design.
Annnnnd, from now through June 1, everything in the store is on sale for 30% off with code 30OFFMAY – woohoo!
Code works up to 3 times per person, so get what you want and then come back for more, I'll be adding stuff all week long. 😉
Doing the happy dance 'cause I'm so dang exciteeeeeeed!
So anyway, enough about me, my friends in the low content space have been super busy too. Here's some things you may be interested in…
---
1. Ruthie at Ritchie Media has a flash sale on her aMember Demystified videos for two more days. If you use, or want to use, aMember to run your shopping cart, membership, and affiliate program for your products, these videos are a great asset to help you get started and learn some tweaks and tips.
While not a deep dive, this quick training will get you a lot further along than the pretty nonexistent information from the vendor, and it's such a popular program in the low content world – because it really does work well, despite the lack of understandable tutorials/help – that it's well worth getting.
And these videos will get you over the initial "what the heck do I do??" confusion in an easy-to-understand way, from two people who have used it a lot and even in different ways and so have different perspectives to share.
These videos were live sessions offered by her and Melody from PLR of the Month Club back in February as a bonus for Ruthie's Deluxe Bundle in January, so check first on Ruthie's site to be sure you don't have access already.
​Check it out here, and save 50% with code MAY24FLASH through Wednesday, May 26.
≈≈≈≈≈≈≈≈≈≈
2. Faith at For Mommies by Mommy Printables just released a new package of eBook Covers and Journal Pages Canva Templates, which includes 15 designs and 150 customizable templates. These can be used for ebooks, workbooks, journals, planners, wall art, and more.
I don't know about you, but I buy/get so many Canva templates, my account is a complete mess…lol. They're so easy to use for mockups, social media graphics, and so on, but I've never really tried to use Canva for documents. These templates look really good though so I may pick them up for myself because Faith always does a good job.
​See them here, and save $20 with code EBOOKS through Sunday, May 30.
≈≈≈≈≈≈≈≈≈≈
3. Jan at Simple Happiness Biz has an adorable new Kids' Printables Pack out, with activity pages that come in two cute sets in one fun pack – one with rainbow background and one with dinosaur background.
You get Powerpoint files AND Canva templates, in addition to PDFs, so you can make new themes with other animals, spacey stuff, robots, whatever you want.
Moms and mom bloggers love this kind of pack. 🙂
​Go check them out, and pay just $10 with code FUN4KIDS through Monday, May 31.
---
Alrighty, that's all I have for you today. I'm off to get some work done this morning and then we'll see how the afternoon goes.
Have a spectacular day! And thanks again for being here, I appreciate you. Remember – life is short, so do something fun!