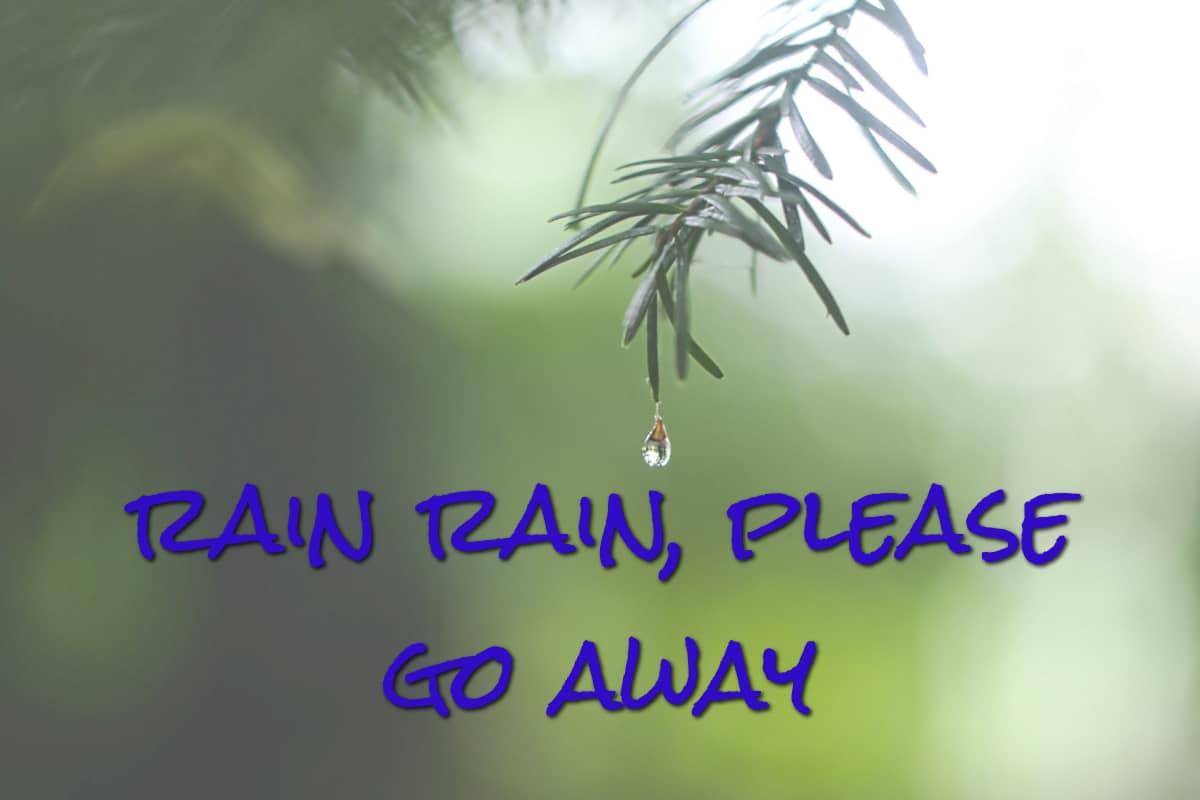 Hey there! Happy Saturday! How's your weekend starting off? I hate to complain, but I'm soooo tired of rain (haha, that rhymed). We've had rain almost every day of May and while we'll be wishing for it later in the summer when it's hot and parched, right now the ground is just drenched.
I was watching a live video yesterday afternoon as storms rumbled through, with a local guy who covers weather for our county. He showed his weather records that reflect 17″ of rain this month so far. SEVENTEEN INCHES. That's freakin' ridiculous.
On the flip side, the temps are only in the low 70s instead of high 80s or 90s, and that is something I can definitely get behind! And at least I'm not in Canada, where my friend Ruthie had snow yesterday…what the what?!?
Crazy days, I'm tellin' ya.
Anyhoo, here's a few things going on this weekend you might want to know about…
---
1. Speaking of my friend Ruthie at Ritchie Media, she is hosting a $5 for 5 Days Get to Know Us Sale with a few select PLR sellers and hey, I'm one of them! 😁
The way it works is you go to the main page here, check out the information from the 10 of us who are participating, and then click through to the individual sellers' websites to purchase the products you want for just $5 each.
Each of the products have full PLR/commercial use rights, they're not samples or limited use. We just thought it would be a great way for you to be able to sample some full-blown products at a teeny-tiny price, and maybe find a few new-to-you sellers at the same time.
(Helpful hint: many of the sellers may also be offering a special deal on another product after you buy the $5 product, soooo…they're worth looking into!)
​Check out the master page here, and the $5 offers are good for 5 days, through Wednesday, June 2.
≈≈≈≈≈≈≈≈≈≈
2. Lynette at Thrive Anywhere just released the Turn It Off Digital Detox Journal, which is perfect for anyone who needs a bit of a break from the technological life.
If you need some help tracking your online usage, with tips and guidance on where and how you can cut back and keep an eye on your online time, this journal is just what you need.
See it here, and get 50% off with code DETOX through Tuesday, June 1.
≈≈≈≈≈≈≈≈≈≈
3. Jenn at Planning Addicts has a new Camping Coloring Pages Pack out now, with 20 full-page designs featuring camping of all types ready for coloring.
You get both PDF and PNG files, along with 1 full color page.
​Check them out here, and get $5 off with code CAMPFIRE through Monday, May 31.
≈≈≈≈≈≈≈≈≈≈
4. Jan at Simple Happiness Biz has an adorable Kids' Printables Pack out, with activity pages that come in two cute sets in one fun pack – one with rainbow background and one with dinosaur background.
You get Powerpoint files AND Canva templates, in addition to PDFs, so you can make new themes with other animals, spacey stuff, robots, whatever you want.
Moms and mom bloggers love this kind of pack. 🙂
​Go check them out, and pay just $10 with code FUN4KIDS through Monday, May 31.
≈≈≈≈≈≈≈≈≈≈
5. Di Hauser at PLR Planners just released her new training, Woo Me Please, which is all about creating an ecommerce store using WooCommerce, from the basics to shipping and integration.
I admittedly don't know anything about WooCommerce as I use aMember for my store, but Di is a terrific teacher and you can bet she knows her stuff and will be able to get you going if you want to use this very popular and widely used system for yours.
​See what's included here, and save $50 (no coupon needed) through Friday, June 4.
≈≈≈≈≈≈≈≈≈≈
6. Last but not least, don't forget my freebie planner, and sitewide sale where you get 30% off with code 30OFFMAY, still going on through Tuesday, June 1! 😉
---
Alrighty, that's all I have for you today. My boss (she's tough, let me tell you…😂) is gonna let me have some time off this weekend, I'm not sure what I'll do with all that freedom. Read a book, maybe. Catch up on some season-ending TV episodes. Nap. Who knows?
Have a spectacular day and weekend! And thanks again for being here, I appreciate you. Remember – life is short, so do something fun!